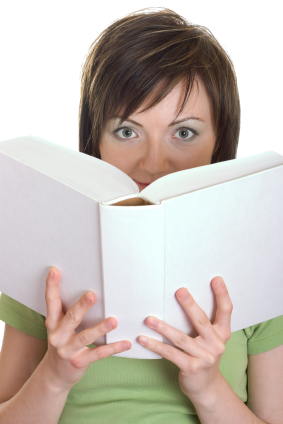 I have a confession to make:  I don't Read websites, blogs, or articles.
And I'd bet that 90% of the people who visit websites and even those who subscribe to blogs don't "Read" them, either.
What's more, even though I generate lots of content for our sites and for our clients:  I am not a Writer.
In fact, I'd guess that people who are not Writers create a great deal of the content online.
So what's fueling the blogging revolution if hardly anyone Writes and even fewer people Read?
Here's what I mean by "I don't Read"
Reading website content is different from Reading poetry, or books, or even articles in print.
When you read a novel, you start at the beginning.  If you're like most people, you read through to the end.  There's a plot, characters, development, tension.  You don't just skip around reading a paragraph here and there, picking and choosing what to read based on chapter headings, do you? But eye tracking studies have shown that this is exactly what the vast majority of people do on the Internet.
Studies show that Internet readers skim, scan, and skip around far more than they Read.
I wouldn't really call this behavior Reading.  Whatever you call it, this scanning or skimming highlights a critical distinction in writing for the Internet – there's a very real difference in reader behavior that you need to be aware of and cater to if you're going to write communicate successfully on the web.
What you need to know, now.
1. Structure your copy to facilitate skimming, scanning, and skipping.
This is a basic principle used successfully in both print and online marketing and advertising. You have to write in a way that assumes that your 'visitor' will first (and maybe only) scan your page to see if anything looks interesting. They will start with the title of the post or your headline – and only if that first line if it looks interesting.  Then they move on to subsequent subtitles, section titles and other bold, dark or large text.  Of course that's assuming there are no images.  Images always grab the eye first.
2. If your best points are buried in the middle of a paragraph, you won't get your message across to most visitors.
While building up to a Big Revelation may satisfy your creative urge, it won't help you communicate online.  If I can't scan your page, reading only what visually stands out, and walk away with the essence of your message, you haven't structured your post with the average Internet reader in mind.
3. Break All the Text Formatting "Rules"
A real Writer gets a bit queasy at the overuse of semicolons.  So, how do you think they'd feel about a series of two-sentence paragraphs with excessive underlining and liberal italicizing?
If you need to make a critical point you don't want me to miss while I'm skimming your page, don't be shy!  Make it bold!
And if you want to be sure I capture the most important points of any section:
Turn them into a list
Use bullet points liberally
And use short sentences and short words.
4. Above all, don't "Write"
Don't Write.  Communicate.
Unless your website or blog is about writing for Writers, or exists to share poetry or fiction, it's not really your job to Write.  It is your job to respect your visitor's time and convey a valuable message in a format that's easy for them to invest just enough time to get what they need to know by skimming. (And once they skim, if you've sufficiently captured their interest, they might just slow down enough to read what you've written . . .)
I don't think of myself as a 'Writer' so much as a communicator of value.  I'm focused on really communicating in a way that will get my message across – intact – in this digital age dominated by the diminishing attention span and the numbness induced by constant media bombardment.  I can get my creative writing fix elsewhere.
If I don't do everything I can to help my busy, sometimes frazzled reader get my message, I'm just not doing my job.
Other sure-fire ways to make sure no one reads your site
Dark backgrounds and lighter colored print.
Print that's too small to read, or lines that are too close together.
Spelling so poor I doubt the author has anything intelligent to say.
Hype. Over-promising. Hyperbole for no reason.
Bait and switch. Articles that are clearly just there to get me to look at the ads – like content farms.
"Fake" writing — the articles and posts obviously written by an outsourced $4/hr writer.  Did I say writer?  I meant "copy-paste-re-arranger."
The 15-inch wide page.  Just because I have a 15-inch browser doesn't mean I want to have to read 15″ inch long lines. It's just too hard to make it from the end of one line all the way back to the beginning of the next.