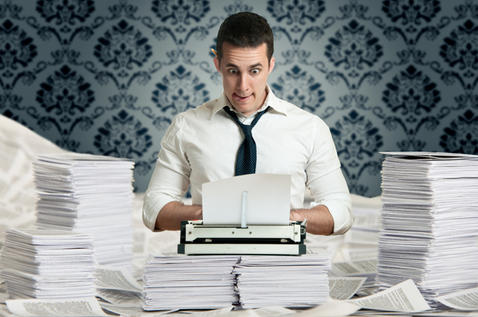 For those of us doing business online, we basically write for a living.
Whether you're writing blog posts, articles and guest blogs, product blurbs, or sales pages; the more high-quality, relevant content you generate, the more you get paid – directly, or indirectly over time.
There's stuff I wrote for sites years ago that continues to sell products, generate valuable new link relationships, and a reliable stream of targeted traffic to those sites: year in and year out.
That's how good content can work for you.
One Way to Bring out the Productive Blogger Within
Knowing how important fresh content is to our business, I could easily write 24/7 – with blog posts for multiple sites, articles, and the client writing I do.
And in order to generate that much content, I've had to constantly wrestle with a few bad habits.
One of the biggest problems I've had is getting lost in my topic: And we're talking epic crashed on a remote island kind of lost.
I'll start writing and twenty minutes later find myself lost in a tangled jungle of paragraphs with no idea how to tie back to my original topic.
I'm nothing if not persistent, so I keep writing. Something good is bound to come out of this, right?
And soon, I'll have ten pages – and ten hopelessly intertwined, if good, potential ideas, but not one, single finished article.
It doesn't have to be this hard.
The solution obviously comes down to one word: Focus.
If you'd like to write more content, more often, I've discovered a cool tactic that works for kick starting the focusing process and fueling your "super-writer" within.
Asked and Answered
There seems to be two primary camps of struggling bloggers: those who say they don't have enough ideas, and those who have too many.
I suffer from the latter – something I call prolonged ideaphoria.
I tried outlining my posts and articles.
I'd start writing to the outline, and as I wrote, six more-or-less related concepts would pop up that were so much better than the outline, and in they'd go — because I'm just that helpful.
And soon, I was hacking my way through the newest thicket of jungle foliage.
A year or so ago, things were getting bad: I'd write like crazy all week, and end up abandoning ten articles in various states of completion for every one I actually finished.
I had to find a better way. And, it turns out, the answer was right in front of me all along: sitting right there in my email inbox.
The Answer May Be in Your Inbox
Here's what I realized: Whenever a client emailed me a question, or posted a question on one of the blogs, I found it surprisingly easy to respond with several paragraphs.
No planning, no laborious editing – and no jungles: I'd just do a quick mental download of what I knew about that question.
Even more intriguing, I seemed to be able to structure my entire response "on the fly:" there would be a beginning, middle, and an end.
And often – without even trying – I'd throw in a relevant personal story or client example – just like they recommended we do when I was a kid in article-writing school.
In fact, it looked just like an article.
So, here's what I do now to jump start my writing quickly and (relatively) painlessly.
I ask one question.
And then I answer it.
Happily, this tactic works equally well whether you feel like me – swimming in sea of ideas – or you feel more like you're on a deserted island, not an idea in sight.
Five Steps to Better, Faster Writing
1. Choose one question.
And stick to one question.
This is why outlines didn't always work for me, and is inevitably the reason I run into trouble with articles that get too long: I fail to stick to a single question – as I write, I'll think of four related questions that needed answering, too.
Where do you find questions to answer?
Your blog comments are golden; I've gotten some great post ideas from our reader's comments (thanks!) Also take a look at the blog comments of other sites in your niche.  Look in the forums you participate in. Check emails from your clients and customers for questions they've asked you.
If you still can't find a question to answer, think back to the "beginners" questions you had before you knew what you know now.
Don't think that the question has to be advanced or complex.  In fact, simple questions are often the most highly appreciated, provided you take a real stand when giving your answer.
2. Do a quick mental survey.
Once you've decided what question you want to answer, then do a quick mental survey and ask yourself:
What do I know about this subject?
What's the single most important, relevant response I can offer this reader?
Can I break this down into a few actionable points?
Have I written about it before?
What makes my answer unique?
Do I have proof or examples?
3. Outline your response.
Write an outline with just the four or five most essential, strongest points and then write a short paragraph for each point.
4. Check your 'swipe' file.
Even if you don't keep a file of interesting material you can borrow from (your own and others), you are still surrounded by material you can pull from to add interest to your answer and to avoid totally creating this from scratch or reinventing the wheel.
When I first started using this method for keeping me focused I realized that I had years worth of email responses to clients – a cache of nearly complete articles in my sent mail file. All most of them needed were an intro and an exit.
5. Wrap it up.
Even if you have a nearly complete email from some previous conversation, it will usually require a little polish – maybe an intro and a conclusion of some kind.
You may need to shorten and tighten, add a bit more of your own voice, or choose a nice metaphor to frame it with that ties it all together.
And here's the good news: All of this becomes easier the clearer you are about your message and the better you know your audience's needs – and the more you do it.
Let us know how this works for you…
I happen to know we have a lot of TN readers who are very prolific writers.
What are your tips for generating great content, consistently?
What holds you back from writing as much as you'd like?
Let us know in the comments below!