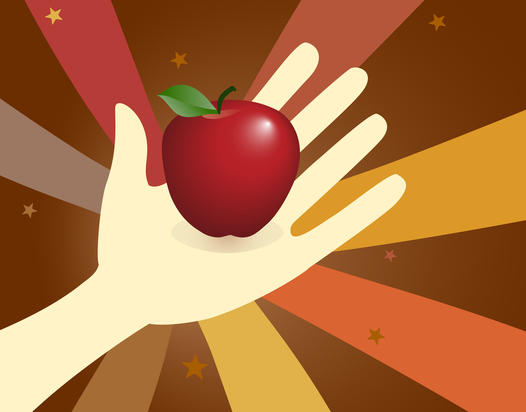 If you have an apple and I have an apple and we exchange apples then you and I will still each have one apple. But if you have an idea and I have an idea and we exchange these ideas, then each of us will have two ideas. — George Bernard Shaw
Consider the story of Samantha, famous author.
Her first book sold millions of copies.
And the fact that it was published at all was a complete accident.
At first, Samantha never actually set out to write a book. She had the seed of an idea – a really wonderful idea – and she shared it in a magazine article. Newspapers picked up that article across the country, and then around the world. Soon, her ideas had taken on a life of their own.  Radio and TV shows called. And then a publisher suggested she develop the idea into a book.
The rest is history.
Years later, Samantha and her publisher sought to repeat the success of her first book.
They asked: "So Sam, do you have any more great ideas?"
Turns out she did. She sequestered herself in her office and hammered away at the keyboard for weeks on end.
The book was brilliant, she assured all around her. But because the ideas were so cutting edge, no one else would be allowed to see the book. Samantha was afraid someone would steal her ideas.
So in secret she worked, and when she finally handed the completed manuscript to the publisher, they rushed to publish it.
The book bombed. Few could understand it.
Her ideas were obscure and unconnected. In short, the book was a convoluted mess.
What had gone wrong?
Isolated Ideas, Interactive Ideas
I was listening to publishing maven Janet Goldberg talk about authors – and this advice applies equally to a blogger. She noted that she could always tell those writers who've attempted to write a book in isolation. Their writing becomes stilted, their ideas brittle.
Her solution: involve other people in the writing process.
But, how? And with whom? After all, the life of a content creator can become pretty isolated. Many of us have a patient spouse who serves as editor and cheerleader. Beyond that, who wants to bother their friends every time they write another post? And what if your friends aren't very good at offering constructive criticism?
Make New Friends: Interactively
As content creators, we put stuff in front of our audience, and they get to respond.
And that's the beauty of being a content creator online: The interaction.
Some of my best ideas – if not all — were made better by putting them out there and listening to what my readers had to say about them. I've written on blogs where I've been lambasted, ripped to shreds or created all sorts of controversy.  And in every case, those conversations made me a better writer, a better thinker – and gave me better ideas.
Tod Baker is an international advocate for learning with technology.
In a 2009 post entitled Hyperlinked Writing is the Most Powerful Writing, he wrote:
A hyperlinked writer connects with readers who care. Ideas bring them together, not spaces. This authentic audience influences writers because it can interact with them by commenting, like in blogs, and contributing, like they do in wikis. This helps writers to think deeper, write clearer, and refine ideas. In short, hyperlinked writing is the most powerful because it creates a community of learners. Notebooks struggle to connect people.
A Blogger isn't a Teacher
I heard somebody say, "Bloggers aren't teachers." And I agree.
We're really more explorers and leaders – and sometimes, our ideas can instruct or inspire.
This distinction can actually be quite liberating. Think about it: A teacher has an obligation to be accurate and correct every time.
Do you feel the pressure to be "right" or absolutely correct every time you write? Can you allow yourself to simply throw a new idea out there, and see what happens?
Do you hold some things back because they need to be as perfect as possible before letting them out? Release something now!
As a blogger, you don't have to be right. You just have to write.
Sometimes, the feedback from a complete stranger can be the exact input you need to take that idea to the next level.
If you create content, do you invite interaction on your site? Do you create pathways to make it easy for people to find you?
If not, open up the comments. Get active on social media. Start the conversation. Interact with your readers.
Want more great ideas? Share one idea right now.