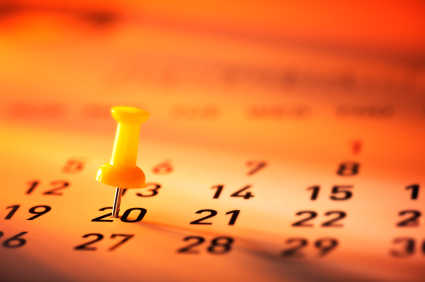 Every new site owner wants to know two things:
How long before I begin seeing a return on my investment in my online business?
What things should I focus on first to guarantee the quickest returns?
If you've found your voice and niche audience, how fast you grow depends on how quickly you do two things: learn to write lots of content, and get your content posted on other sites.
The Two Critical Focal Points for Your Online Business
In fact, we can reliably track the growth of our client sites to their success at regularly taking these two actions.
Let's begin with the end in mind: Your objective is to achieve a position of leadership and authority and become the "go-to expert with people in your niche.
There are no short cuts to this kind of authority, but I have seen people leap to the top of the pack in a very short time by staying focused on two things: Creating content and creating connections.
First, Create Compelling Content
This is where it all begins: write lots of fresh content.
It doesn't matter if you prefer to communicate with the world via the written word, audio, or video – it all begins with learning some basics of copywriting. (Here's a great free resource I highly recommend.)
You've first got to learn how communicate in a way that others will want to read.  Not a great writer? Sometimes, lots of "writing experience" can actually get in the way of effectively communicating online. Even though I've been a copywriter, published two books, and have written tons of online client copy, these copy basics are lessons I'm still learning, with every post I write.
And that's the great part: You can and should learn "on the job." Don't wait until you're a copy genius: Jump right in writing about your topic with passion and enthusiasm. Your audience will tell you how you're doing.
How to tell when your writing "works"

Your email subscription list is growing, and responding.
People begin forwarding your emails, tweeting your posts, and commenting on your site.
Some people want to skip the content step and hire someone else to write copy, or just buy copy "off the shelf." This may help you sell some stuff in the short term, but it's not the way to build a successful, stable business.
How to fight the urge to quit while learning to write
It's during this learning phase when some people grow impatient. They've published a post faithfully every week for months, and still have 100 readers, or there's no commenting going on, or no one's ordering their product.
Keep your eye on the big picture. Do you have your goals and intentions for your business mapped out? If you've done the hard work of defining your voice, your market and your product funnel, then you've also asked yourself the tough questions that keep you motivated during growth:  Why are you doing this? If you haven't yet defined that for yourself, then the people you do draw to your site will be equally confused.
What's more, if you're following our content system, you'll realize that you'll never write a post that goes to waste. Don't "save" your best ideas until you "have more readers." Put your best ideas and maximum effort into every post. When you structure your content in the right way, every post can go on to live a long, happy life drawing new readers to your site.
Now, Get Connected and Grow Your List
The sure sign of an amateur is expecting that people will magically stumble upon their site, or their first readers will just happily spread the word for them.
It just doesn't happen this way until you've built some authority. While you're building and growing, you've got to get yourself and your site out there.
Beyond "Traffic"
We're not talking about "traffic" here. Some people want to take the quick route by buying ads in the search engines. This may be an option for you, but only if your site can meet these three important requirements that make online ads a good investment for you.
We're talking about reaching those people who have a natural affinity for you and your topic. To reach these people, they've got to "sample" your voice.
Guest Blogging
The single best way for most bloggers to get connected and expand their list and authority is to guest blog.  This tactic has reliably yielded the quickest return for us and for our clients. Find a blog related to your topic, and ask the site owner if they'd consider you for a guest post.  We've seen new bloggers get thousands of hits overnight, while adding subscribers to their lists. And these are the most valuable kinds of subscribers: They aren't responding to a 20-word ad, but instead to your voice and your message.
Commenting and Forums
Find several communities where people with interests similar to yours. Become a member of that community, and add to the group conversation. As you become a trusted expert there, people begin clicking through to your site.  The same holds true with commenting on other's blogs. I'm still amazed at the traffic that comes from comments I made on posts and in forums months – or even years – ago.
You want Social Proof of your authority

As you start getting out there, you'll begin seeing the most reliable marker of the authority you're after: links pointed towards your posts.  Now people begin returning the favor: in addition to linking to your articles on your site, they begin commenting on your blogs, and your social networking lists like Facebook and Twitter grow as well. All of this activity from others forms your "social proof" online.
Then, Lead with Authority
You'll know when all of your hard work begins paying off: You'll get phone calls from people wanting to interview you and emails from bloggers wanting to guest blog on your site. We've had clients receive offers from book publishers, and be invited for interviews on national news programs.
This is when the nature of your business begins to change:
You've written enough content that you can re-purpose and repackage your content into products, auto-responder email series, and more.
The social proof you've gathered begins to pay dividends. The back-links you have pointing to your brilliant posts begin bringing you a steady stream of subscribers and buyers.
Your authority attracts new and higher quality people to partner with for joint venture mailings.
This is what we're all working for: It's from this foundation that a strong, stable business is built.
So, how long does all this take?
A few years ago, we were telling clients that without a Google Adwords budget, expect 3-4 years to reach a readership, market leadership, and sales position to make a living online. That's changing. If you follow our guidelines to build from a solid foundation, with the emergence of social media and an established blogosphere, the time frame to success has easily been cut in half to an average of 18 months – a calendar that be cut even shorter if you hit a couple of great guest blogging posts on popular blogs.
Start writing!