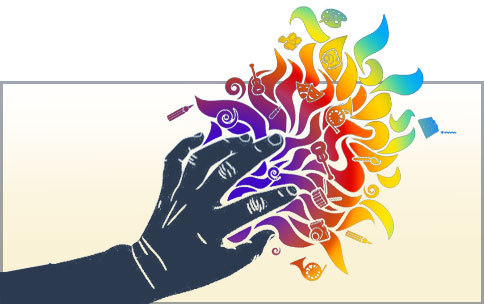 Don't ask what the world needs. Ask what makes you come alive, and go do it. Because what the world needs is people who have come alive. -Howard Thurman
Do your projects suffer from stops and starts?
Do you start something with big hopes – only to have it fizzle as you lose confidence or lose focus?
Do you find yourself counting the minutes to complete the work you're doing right now while day dreaming of a future where you feel intrinsically motivated and excited to work?
What's up with that?
The Solopreneur's Guide to Working with Passion
I'm going to make a bold claim: When we have a hard time with our business in these ways, it's usually because the work we are doing doesn't have a clear connection in our mind to our core reasons for working in the first place.
I know because I've seen this play out time and time again. In my own life.
Other People's Passion
As a young, bright-eyed marketer, I'd hop from client to client searching for that perfect project that would call forth my 'natural' enthusiasm and motivation. I'd attach myself to passionate gurus and CEOs, hoping a little of the enthusiasm they had for their products would rub off on me. I believed I'd find a product so magical that the thought of writing about it would have me effortlessly jumping out of bed in the morning.
It just didn't happen.
Instead, my refrain became: "If I just sell this stuff long enough, I'll be able to afford to buy the time to stop and really figure out what I'm passionate about."
Two decades later, I'd have successfully, painstakingly, sold another ten million bottles of this client's magic juice, and a few million units of that client's shiny toy — without getting any closer to finding my own intrinsic passion – without having had the time to figure out what "makes me tick."
That was my life, until one day I realized that I had the "passion equation" totally backwards.
Seth Godin writes about the "myth of project-specific passion" in his great new book Linchpin:
In a pre-internet world, where Amazon.com couldn't have existed, would Jeff Bezos be a non-passionate lump?

Passion isn't project-specific. It's people specific. Some people are hooked on passion, deriving their sense of self from the act of being passionate.

Perhaps your challenge isn't finding a better project or a better boss. Perhaps you need to get in touch with what it means to feel passionate. People with passion look for ways to make things happen.
I eventually slowed down enough for it to dawn on me that I had to bring the passion to the work, not wait for the work to fuel the motivation.
And strangely, I started discovering more work, more clients, and projects for which I felt passionate.
A Framework for Your Own Passion
When determining what work to pursue, it's been helpful for me to evaluate new projects and opportunities not in terms of how passionate they will make me feel, but in terms of the passion I can bring to them.
In order to bring passion to my work, instead of the other way around, I had to decide first what I was working for.
In his book Drive, Daniel Pink explores our motivation for working, and distills the latest research into three core drivers:  autonomy, mastery, and purpose.
Obviously, solopreneurs have autonomy. And most of the solo service professionals we've worked with have achieved a certain level of mastery for their craft or art. I think the final question becomes: How do we give that mastery we've attained a purposeful, passionate direction?
Here at TransformNation, our mission is to help more solopreneurs discover the work they find purposeful by answering questions like these for themselves:
What kind of world do I want to live in?
What do I believe the world

must

become?
How can my work help create the world as I believe it should exist?

Can you bring this passion to what you're doing right now?
If so, please share your breakthroughs with us in the comments!
If not yet, then how can you make small, strategic changes to what you're doing now so it will be a better fit with your passion?
If it just doesn't fit, how can you carve some time out of each day to devote to finding work that better creates the world you want to live in?