Why Continue to Struggle On Your Own?
With one-on-one support, you get personalized answers and expert guidance rooted in 30 years of hands-on work with doctors just like you. Together, we'll resolve your most pressing marketing challenges, uncover your biggest opportunities, and identify specific, highly-leveraged next steps so you can move forward with focus and confidence.
Get clarity about your biggest opportunities for growth and your most powerful next steps.
Get confidence that you are on the right track, working toward making your dream a reality.
I'll help you get "unstuck", and overcome the obstacles which stop even the most determined practitioners from succeeding...
Where are you stuck right now?
Making the Smartest Choices

Are you stuck choosing between several great ideas? For your niche, your book, your blog articles, your next product?
Prioritizing - Right Things First

Are you feeling unsure where to invest your time and money first? Which activities will build the best foundation for growth?
Finding Time to Fit it All In

Are you stuck working so much in your practice that you aren't sure how you can possibly build a business *beyond* your practice?
Finding Resources & Help

Do you wish you had a team in place to expertly execute your big ideas without you micromanaging them?
Learn to Sell Yourself, Without Selling Out
Hi, I'm Keith Rhys.
For nearly thirty years, I've worked with nutrition companies and high-profile doctors and together we've created products (both physical and information) that have enjoyed in excess of one billion dollars in sales.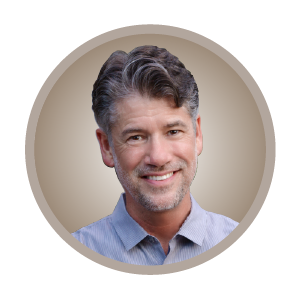 I know sales and marketing:
During the 80's I worked as a Sales and Marketing Vice President for several nutrition companies. When the Internet came along in the mid-nineties, I made the transition to working with individual doctors and their messages rather than companies, and never looked back.
I work solely with doctors like you. 
Every session of our coaching together is focused on quickly finding your most critical strategic leverage points: your most immediate next opportunities for growth. This comes as a result of 30 years of growing practitioner businesses just like yours. 
Keith is helping me listen to my big ideas... Working with Keith I now have the brains, wisdom, and savvy behind my marketing decisions. I appreciate the time he devotes to his responses; his thoughtfulness. All of our communications and sessions together are highly confidence-inspiring. I now have good guidance on a sometimes torturous path which is invaluable. It is clear that there is no better team that I could be working with and the serendipity of having found you is profound.

Kelly Brogan, MD, KellyBroganMD.com

Keith ignited two significant periods of growth for us... Keith created two new product lines and re-created our brand identity. In the process, he ignited two significant periods of growth for us. Just one of them - the sales of our largest channel – online direct to consumer sales – grew by 125% per year. We can attribute this directly to Keith's platform and product development and the streamlining of our consumer messaging and product branding and positioning.

Dr. Peter D'Adamo, 4YourType.com
I wouldn't be where I am today without Keith's help. Keith has been instrumental in my success, and I enjoy working with him. I've worked with Keith with my websites, my best-selling book, creating my clinic and clinician training program. In all of these efforts, Keith has helped to ensure that they maximize revenue and impact without compromising my integrity and purpose. I've worked with some other marketing advisors in the health space, and was never comfortable with their recommendations. Keith understands that maintaining integrity and cultivating a relationship with the reader/patient/customer is crucial for long-term success. He's not going to recommend manipulative or gimmicky tactics; he's playing the long game, which is the only one to play if you want to grow your business and still be able to sleep at night. If you want an experienced and skilled guide to bounce ideas off of and help develop strategy and a path forward, if you'd like a business that grows and expands that is completely aligned with your values and purpose while you also establish more credibility and authority online as a health/medical expert, and translate that into more patients, more income, more impact, and greater service to your goal, Keith's your man.

Chris Kresser, ChrisKresser.com
Wherever you are on your business path, I've worked with practitioners in exactly your position.
Get the personalized answers you need to move forward with confidence. I understand how this all becomes so confusing: With so many marketing advice blogs and gurus out there, and with the complexity of digital marketing, even the smartest health professionals feel unsure at best – or completely lost at worst – about their best path to building their online authority and audience. No matter where you are on the spectrum, I can help. I've spent decades developing ways for health professionals like you to create leverage in a sustainable way without having to become a full time "internet marketing expert." If You Have Questions, I've Got Answers... Your Website: "My website is focused solely on my practice. How do I transform it into something that also attracts  subscribers, followers and buyers beyond my own patients?" Your Book: "I have an ebook or book idea, but I'm not sure if it is right for my audience or for attracting a publisher." Your Products: "I created a digital information product, but few are buying it and I'm not sure why." Your Content: "I want to begin creating content to attract an online following and build my reputation as a go-to expert in my field, but I'm not sure if I should do blog posts, guest articles, a podcast, or videos… or which topics I should focus on first." Your Authority Footprint: "I have a lot of big ideas but I just don't know where to start in terms of building my authority and following beyond my practice and patients." Your Email List: "I know I should build an email list, but don't know how to start." Or… "I have a pretty good-sized email list, but I'm not really sure what to do with it next." Your Traffic Strategy: "I need advice about how I can attract more website visitors and build my online following faster." Your Marketing: "I've read/heard about this great marketing tactic (Facebook ads, webinars, summits, etc) and I want to know if I should be doing that – if this tactic will work for me." Your Site "Monetization:" How do I transition from a practice website to something more — a popular blog, a training course, a supplement store, a book promotion site, etc? Even if you don't see your question above, I've seen it all and can help you if …
You are just getting started building your authority footprint
You've already tried a lot of online strategies, but many of them just aren't working for you
You have a big opportunity you want to maximize
After launching several successful nutritional product businesses using the same principle-based systems I teach today, I've since coached hundreds of other practitioner-entrepreneurs through the same systems in my live workshops and courses. I've worked with practitioners of every conceivable healing modality and discipline. In short, I've got this down to a science for you. Whether you're considering launching a new product line – or a new website – I can walk you through the most effective process for you step-by-step – along with showing you what metrics to look for to decide if your project should be a "go" or "no go"… I've seen enough to know what separates the winners from projects that don't stand a chance out of the gate. Why Do I Offer Private Coaching? You might be wondering, if I've got multiple businesses and I'm financially successful, then why do I offer private coaching at what amounts to be a very modest investment? Well, a few reasons, actually… First, it's for the same reasons I recommend my most successful doctor clients continue to see clinical patients long after they have the financial need to do so: to stay connected to your patients or clients real needs "on the ground." The only way I can create great content and training programs is to work one-on-one with you: and staying connected to your needs and desires really keeps me grounded in a fundamentally satisfying way. Plus, I enjoy working one-on-one with you. I mean, I really, really enjoy it. And if you talk to one of my clients, they'll tell you they can tell I enjoy it. Part of me loves to teach. There is nothing more gratifying to me than helping someone get their business off the ground… enabling someone to go from "part-time" practitioner-entrepreneur to successful multi-stage beyond-the-practice business owner. Or, helping a doctor double their business in 12 months.  Or, watching my client snag that seven figure book deal, and go on to sell enough copies to become a NY Times "bestseller." I also get so much personal value out being a coach because it keeps me sharp. It also expands my testing environment, adding to my toolbox for you. I constantly learn from my course students and personal clients – I've become a much better teacher, by helping clients and responding directly to their questions.
LIMITED SPOTS AVAILABLE
YOUR NEXT STEPS
Intensive Coaching Sessions
The open slots I have currently are for my 'NEXT STEPS' intensive coaching session (new clients only). This is not ongoing coaching, although there may be potential for that later depending on availability.
INCLUDES
Initial Evaluation – After booking your appointment with me, I will send you an in-depth 14-page workbook to help me assess exactly where you are, and where you want to be.
Challenges, Opportunities, and Assets Review – I'll perform a thorough review of what's working, what's not working, and your biggest upcoming opportunities (you'll submit this information by responding to an assessment I'll provide).
Two 60-Minute Phone Sessions – Together, we'll map out your objective and your most leveraged steps to get there. We will focus on your 80/20: What actions will get you the most return on your time and cash investment? You'll submit a pre-call form within 48 hours before each call, and calls are followed by a call summary next steps report.
Coaching Slots Are Currently Filled Up
If you'd like to be notified the next time a spot becomes available, please add your name to the priority notification list below. (Because spots often fill up quickly, and can sometimes take months to open, it's a good idea to add yourself to the list even if you're just possibly interested.)
I'm very much looking forward to working together.
My warmest regards,
Keith Rhys
Disclaimer: Every effort has been made to accurately represent our product and its potential. All claims made of actual earnings or examples of actual results can be verified upon request. The testimonials and examples used are exceptional results, don't apply to the average purchaser and are not intended to represent or guarantee that anyone will achieve the same or similar results. Each individual's success depends on his or her dedication, desire and motivation.